Speedheater Flexi Scraper

– 6 scraper profiles in 1 multi-tool!
A one-of-a-kind, patent-pending and versatile paint scraper with 6 profiles in 1!
We've talked to a lot of craftsmen and handymen over the years, and there was one thing we heard them ask for over and over again: a paint scraper that's both versatile and easy to use. To make a paint scraper like that, the most important features had to be access to multiple scraper profiles in a single tool, a convenient and quick blade-angling system as well as a comfortable and handy one-handed grip to increase efficiency. And so we created the Speedheater Flexi Scraper – the scraper that's in a league of its own!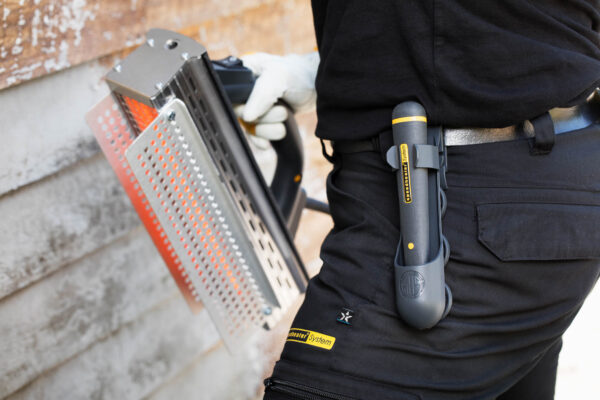 Of all of the features that make the Speedheater Flexi Scraper unique, one of the best is the flexible blade attachment that can be angled and rotated easily, so you can use every side of the scraper blade without ever having to remove and reinsert the blade. With our flexible paint scraper, it only takes a few seconds to change profiles! The scraper features two fixed positions and an optimized angle to make work as efficient and ergonomic as possible. The optimized angle makes it easy to get into tight, narrow spaces. Perfect for window restoration and smaller detailed panels. The handle is lightweight, easy to grip and comfortable to hold.
The scraper blades are stored in a blade magazine attached to the belt so they'll always be within arm's reach. The blade magazine swings out from the holster and can either be detached or securely stored behind the holster while you work. The three blade inserts feature a total of six different profiles and are made of a unique steel composition of the highest quality, so you can sharpen them when you need for extended durability. To ensure you can work as efficiently as possible, the holster attaches to the belt and features a one-hand system.

The most versatile paint scraper on the market

The Flexi Scraper comes delivered with a set of 3 different scraper blades that are stored in a blade magazine and user-friendly holster. This scraper kit includes a total of 6 different profiles!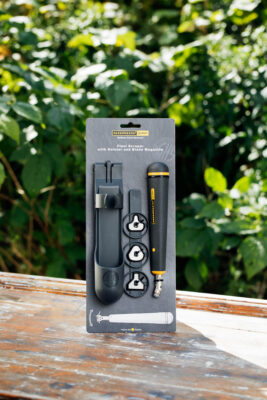 Includes:
1 Flexi Scraper
A paint scraper with an easy-to-grip, ergonomically designed and lightweight handle, featuring a unique and versatile angle solution and two fixed positions. Use all sides of the blade without ever having to remove and reinsert the blade!
3 Scraper blades
Three different scraper blades with a total of 6 different profiles. The scraper blades can be sharpened and are compatible with our entire range of tools.
1 Blade magazine
Stores all your scraper blades in one place and attaches to the side of the holster (included). Blade magazine also sold separately here.
1 Holster
Belt holster for convenient, one-handed handling. Holds the Flexi Scraper and the blade magazine (with the 3 blade inserts included) in place.